Is it just Americans who are blinded by media?  Is it just Americans who are too caught up with their daily lives to realize what horror stories are developing around them?  I'm one to habitually seek knowledge of other cultures & religions, but I think this is something I could not truly know until I lived in other countries myself for a while.  Either way, we are stuck between a rock and a hard place.  Why do I say this?  
Well, how informed are most of us Americans when it comes to the unpopular war or the real-life horror stories that aren't so popular?  I'd say a large fraction of us are decently informed of what's going on in Syria, but only when it comes to the basics.  I will get into that another day though.  Let's just use one example for now that I believe most of us know next to nothing about because it deserves attention, Ukraine: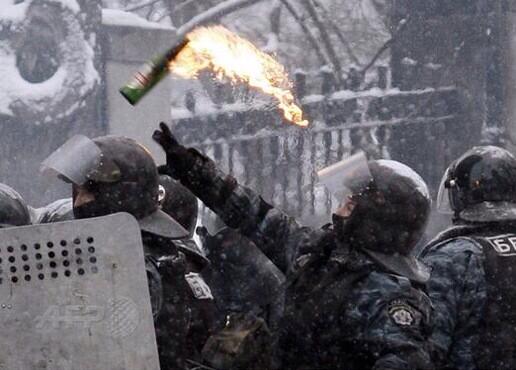 http://disinfo.com/2014/01/maybe-orwellian-text-message-governments-ever-sent/
What do we do about such a situation though?  America has the biggest international "Savior complex". We feel we are the solution to every country's problems, which is honestly too much to juggle, we can't even take care of ourselves very well, but it's also too difficult to just sit there & let it happen. Stuck between a rock & a hard place.  Maybe I think that we should never intervene whatsoever as a government.  What?  I didn't say "should never intervene as America"?  
When "the American people" intervene, it is never just the American people.  It is always driven by our corrupt government that is getting itself & everyone else involved for less than honorable reasons.  What we should do instead is literally leave it to us American people to volunteer.  Is it not best for us individuals to volunteer in sending food packages & supportive letters to those protesting in Ukraine than for our government to intervene which will not only take attention, resources, & money away from the needy people in America but also add to America's debt?  Sure, our government intervening would result in something more noticeable & in more efficient ways, but the question is, is it worth the damage it will do to us?  Is it truly in everyone's best interests to let history repeat itself?  Maybe I'm partly talking out of my ass, maybe there are exceptions.  Let me rephrase that, I honestly believe there are always exceptions.  Where can the majority of us agree to draw the line on these exceptions?  
When the majority of us can settle on an answer to this is the day we will have the resources to make a great impact not only within ourselves but on the rest of the world.